Program Tuesday July 23rd 2019
Tuesday, July 23 – 10:15pm
Kupferschmiede Langnau
Ben Wendel Seasons Band
Ben Wendel ts, Aaron Parks p, Matt Brewer b, Gilad Hekselman g, Kendrick Scott dr
In 2015, Grammy nominated and award-winning saxophonist, bassoonist, composer Ben Wendel released a music-video art project entitled "The Seasons" inspired by a set of twelve piano pieces written and release each month by Tchaikovsky in 1876. Wendel's modern take on the idea was to compose and release twelve original jazz chamber duets in video format on YouTube with modern luminaries Joshua Redman, Luciana Souza, Eric Harland, Julian Lage, and Ambrose Akinmusire, among others. As the videos garnered acclaim among social networks, the project became an unexpected word of mouth success and was featured prominently in The New York Times (Best of 2015), NPR's All Things Considered, and the CBC.

In 2016, After viewing an expressionist painting by Lee Krasner at The Whitney Museum entitled 'The Seasons,' Wendel decided to expand upon the original duets project by reimagining the arrangements for a five-piece ensemble comprised of musicians and dear friends.The Seasons album was released on Motéma Music in October 2018 to critical acclaim.

Wendel has enjoyed a varied career as a performer, composer and producer, including tours with artists such as Ignacio Berroa, Tigran Hamasyan, Antonio Sanchez, Gerald Clayton, Eric Harland, Taylor Eigsti, Snoop Dogg and the artist formerly known as Prince. Wendel is also a founding member of the Grammy Award nominated group Kneebody. As a composer, he has received an ASCAP Jazz Composer Award, the 2008, 2011 and 2017 Chamber Music America 'New Works Grant' and most recently was awarded the Victor Lynch-Staunton award and the Concept to Realization grant by the Canada Council For The Arts. He also co-wrote the score for John Krasinski's adaptation of David Foster Wallace's, Brief Interviews With Hideous Men.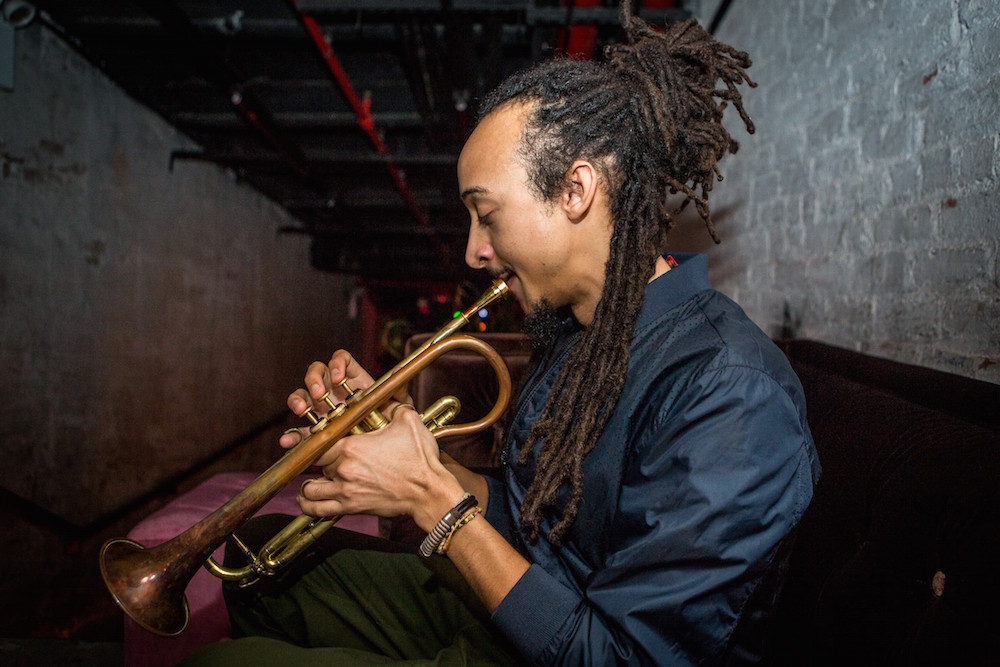 Tuesday, July 23rd – 08:30pm
Kupferschmiede Langnau
Theo Croker "Star People Nation"
Theo Croker tp/comp, Mike King p/keys, Eric Wheeler b, Michael Ode dr
"There are good, great, and nice musical players, but then there are phenomenal instrumentalists such as Theo. I would place Theo in a class of musicians who will redirect the flow, change and alter the current of today's New Jazz." - Donald Byrd
American born trumpeter/composer Theo Croker, is hailed as one the great promises of Black American Music (BAM). Star People Nation (Masterworks/DDB Records) is trumpeter, producer, arranger, songwriter and multi- instrumentalist Theo Croker's most personal project yet, something Croker describes as an intimate exploration of "the everyday rituals of blackness." A translation of his personal, spiritual and creative experience, Star People Nation is a self-reflective collection of provocative, powerfully passionate and boundary-busting compositions that speak to our greater, shared human existence.

As the grandson of the late trumpeter Doc Cheatham, and former student of legendary jazz trumpeter Donald Byrd, trumpeter Theo Croker is an artist steeped in jazz tradition. Well-versed in the swing, bop, and modal styles of acoustic jazz, Croker's own music reveals a love of organic funk, soul, and gooey, groove-oriented hip-hop. It's a vital amalgam that would have pleased the forward-thinking Byrd, whose own '70s funk-jazz albums are an obvious touchstone for Croker on his hypnotically enlightened 2016 effort Escape Velocity.

Launching his career with seven years spent in Shanghai, Croker first introduced his singular style in 2014 on the Dee Dee Bridgewater-assisted AfroPhysicist. His 2016 follow-up, Escape Velocity, marked a watershed moment for the artist, with the Wall Street Journal extolling the album as "timeless and of-the-moment." Croker has also lent his talents to the world of hip hop, with rap superstar J. Cole's platinum-certified No. 1 opus 4 Your Eyez Only, with Croker acting as trumpet arranger and performer on multiple tracks. GRAMMY® Award-winning rapper Common also sought out Croker for his critically-acclaimed album Black America Again. In 2019, Croker also leant his trumpet talents to the most recent release by Dreamville artist Ari Lennox's Shea Butter Baby.