Faculty Langnau Jazz Nights 2017
Greg Osby (sax)
Saxophonist, composer, producer and educator Greg Osby has made an indelible mark on contemporary jazz as a leader of his own ensembles and as a guest artist with other acclaimed jazz groups for the past 20 years. Highly regarded for his insightful and innovative approach to composition and performance, Osby is a shining beacon among the current generation of jazz musicians. He has earned numerous awards and critical acclaim for his recorded works and passionate live performances.

Born and reared in St. Louis, Greg Osby began his professional music career in 1975, after three years of private studies on clarinet, flute and alto saxophone. Coming from a vibrant and musical city, Osby showed an early interest in the performing arts and spent his years in secondary school with a heavy involvement in Blues and Jazz groups. In 1978 Osby furthered his musical education at Howard University (Washington, D.C.) where he majored in Jazz Studies. He continued his studies at the Berklee College of Music (Boston, MA) from 1980 to 1983.

Upon relocating to New York in early 1983, Osby quickly established himself as a notable and in demand sideman for artists as varied as Herbie Hancock, Dizzy Gillespie, Jack DeJohnette, Andrew Hill, Muhal Richard Abrams, Jim Hall and Jaki Byard as well as with many ethnic and new music ensembles in the New York area.

In 1985 Osby was invited to to join Jack DeJohnette's innovative group, "Special Edition". It was as a member of this ensemble Osby was able to fine tune the more challenging aspects of his conception in an open ended, no holds barred musical situation. Says Osby, "My musical thinking for performance and composition advanced by light years as Jack was open to my input and was very encouraging in pushing me to to maintain a steady flow of experimentation. It marked a major turning point in my development as an artist."
Miki Hayama (piano)
Pianist Miki Hayama was born in Kyoto, Japan. She began to play piano and Wadaiko (Japanese drums) when she was 6 years old. During her junior high school year, she was first introduced to Jazz because of her father's Jazz collection.
BIOGRAPHY
She studied at Osaka College of Music where she majored in classical piano for two years.
While she was at the Osaka College of Music, she attended the Fuji jazz School in Kyoto and studied Jazz piano with well known teaher and jazz pianist Sadayasu Fujii.
She is the first prize winner at the Yokohama Jazz Competition in 1996.

After graduating from College, she started to work and play at many Jazz clubs in Kansai area. Her ambition to pursue Jazz didn't stop her but made her move to New York. Since 2003, Miki Hayama has been busy making quite a respected name for herself on New York's jazz scene

She has worked with Kenny Garrett (a.sax) Quartet, Ralph Peterson (drs) Sextet, Sean Jones (tp) Quintet, Roland Alexander(t.sax) Quintet, Tia Fuller (a.sax) Quartet, Valery Ponomarev (tp) and his big band, Michael Dease (tb) Big Band, Shunzo Ohno (tp), Vitaly Golovnev (tp), Vincent Herring (a.sax), Bruce Williams (a.sax), Roy Hargrove (tp), JD Allen (t.sax), Cindy Blackman-Santana (drs), Nnenna Freelon (vo) Group and even the queen of soul, Aretha Franklin to name a few.

Her own 2006 sophomore release Prelude to a Kiss received a five-star rating in Swing Journal. Her newest album Wide Angle got Swing Journal's Gold Disc Award in March 2009, Best Production Award in January, 2010.

Drew high praise from the New York Times, and interview and frequent airplay from WBGO, and enthusiastic support from some of jazz's master musicians.

"Miki Hayama is an amazing young pianist with great chops, a great harmonic concept and a great imagination ! " piano master Kenny Barron recently observed. " This young lady, born in Kyoto, Japan, swings as if she's Harlem grown. Colorful and creative, her style is both aggressive and sensitive."
Liberty Ellman (guitar)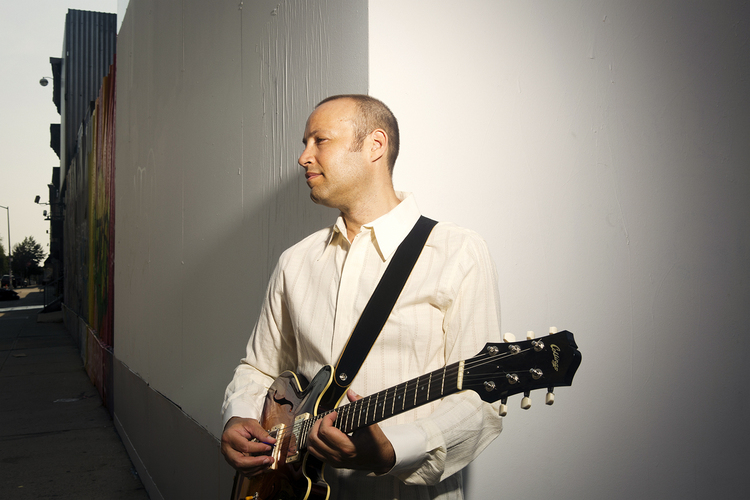 Based in Brooklyn New York, guitarist / composer Liberty Ellman has performed and or recorded with a host of stand out creative artists including: Joe Lovano, Myra Melford, Wadada Leo Smith, Butch Morris, Vijay Iyer, Steve Lehman, Greg Osby, Rudresh Mahanthappa, Nels Cline, Somi, Matana Roberts, Ledisi, Michele Rosewoman, Adam Rudolph, Josh Roseman, Barney McAll, Okkyung Lee, Steven Bernstein, Ben Goldberg and John Zorn. In 2014 Ellman worked with Jason Moran on Luanda Kinshasa, a video installation by visionary filmmaker Stan Douglas.

Mr. Ellman is perhaps best known for his long tenure in Henry Threadgill's groundbreaking ensemble, Zooid. The group has recorded several critically lauded albums. Their most recent recording "In For A Penny, In For A Pound" earned a Pulitzer prize for Mr. Threadgill. In addition to playing guitar, Mr. Ellman is credited as producer and mixing engineer on that recording. He has mixed and mastered many other recordings as well, including Gregory Porter's "Be Good," which was nominated for a Grammy.

Ellman has released 4 of his own critically acclaimed albums: Orthodoxy, Tactiles, Ophiuchus Butterfly, and 2015's Radiate on Pi Recordings. His compositional style has been described as "At once highly controlled and recklessly inventive," and the Wall Street Journal said: "Ellman, along with his peers, is helping to define post millennial jazz." Voted #1 Rising Star Guitarist in the 2016 Downbeat Critics Poll, he was also honored in the 2015 Jazz Times expanded critics poll, as one of the four guitarists of the year alongside Bill Frisell, John Scofield and Julian Lage.

Liberty Ellman has also worked beyond the jazz world: hip hop artists Midnight Voices, and The Coup, dance producer DJ Joe Claussell, and worked on remixes of N'Dea Davenport, Chico Freeman, Ann Dyer, Ayo and others. He also made an appearance on the Grammy nominated Groove Collective record, People People Music Music.

www.libertyellman.com
Marquis Hill (trumpet)
Chicago has long been a major jazz cradle. Ever since pioneers such as Louis Armstrong, Jelly Roll Morton, and King Oliver planted seeds of the music in 1917, the Windy City has birthed numerous jazz titans of various stylistic idioms, ranging from such swing stalwarts as Benny Goodman and Bud Freedman to such modernists as Muhal Richard Abrams, Jack DeJohnette and Herbie Hancock. You can now add 29-year-old Marquis Hill to the list. The New York Times described him as a "dauntingly skilled trumpeter," and the Chicago Tribune asserts that "his music crystallizes the hard-hitting, hard-swinging spirit of Chicago jazz."

Hill hones a warm, mellifluous tone on trumpet and flugelhorn with which he unravels sleek melodic passages that are as commanding as they are cogent. As a composer, he builds upon his distinctive sound to craft arresting originals that embrace post-bop, hip-hop, R&B and spoken word. After releasing four well-received discs on Skiptone Music – New Gospel (2011), Sound of the City (2012), The Poet (2013) and Modern Flows, vol. 1 (2014) – Hill raised his profile significantly by winning the 2014 Thelonious Trumpet Competition, which awarded him a $25,000 scholarship and a recording contract with Concord Records.
In 2014, Hill moved to New York while still making numerous appearances in Chicago. Focusing on his solo career is paramount, but he's still making waves as a sideman for internationally acclaimed artists such as bassist Marcus Miller and saxophonist Joe Lovano. Two years after winning the Monk Competition, Hill says that he's still on cloud nine. "Winning that competition taught me to trust myself and keep working hard for what I believe in," he says. "That experience taught me that I'm here for a purpose. So I need to keep pushing my music forward."
Matt Brewer (bass)
Matt Brewer was born in Oklahoma City but spent most of his youth in Albuquerque, New Mexico. Born into a musical family, Matt was surrounded by music from an early age, both his father and grandfather being jazz musicians, and his mother an avid music lover and radio DJ (who, even before Matt was born, would play classic jazz albums for him). After graduating from the Interlochen Arts Academy, Matt attended the inagural class of The Juilliard Jazz Program and studied with bassists Rodney Whitaker and Ben Wolfe. After spending two years at Juilliard he decided to leave school to make time for his busy touring schedule. Since then he has worked with artists such as Greg Osby, Gonzalo Rubalcaba, Lee Konitz, David Sanchez, Terence Blanchard, Antonio Sanchez, Vijay Iyer, Adam Rogers, Steve Coleman, Dave Binney, Aaron Parks, Jeff "Tain" Watts, and many others. He recently recorded his second album as a leader on the Criss Cross Jazz label. He is an adjunct faculty member at The New School, and has been a frequent guest artist/teacher at the Banff Center.
Naima Acuña (drums)
Despite her young age, drummer Naima Acuña, already boasts an extensive career in music, and is one of the youngest Jazz talents in our country and on her way to becoming a leading jazz musician. She is backed by major national and international pioneering musicians such as trumpet player Arturo Sandoval, drummer Alex Acuña...

At the age of 14 she received a Degree in Jazz Performance from the Guildhall School of Music and Drama in London. She has received drum lessons from Gregory Hutchinson, Brian Abrahams, Trevor Tompkins, Billy Cobham. In addition, she studied for the Degree in Jazz Studies at the Conservatory of Music of A Coruña, where she obtained a special mention.

She has participated in numerous projects, festivals and important recordings both in Spain and abroad (Madrid, New York, London, Bilbao, Barcelona, Holland, Valencia, Melilla...) accompanying outstanding jazzmen including Mulgrew Miller, Jean Toussaint, Scott Stroman, Eclectic Voices, Cennet Jönsson, Pierre Bousaguet, Cristian Escoudé, Nikki Iles, Roberto Somoza, Pablo Castaño, John Taylor, Martin Hataway, Martin Speak, Daniel Bayliss, Gareth Fowler, Toby Boalch, Mark Hodgson, Chris Young, David Austin, Brian Traynor, Kenny Wheeler, Paco Charlín, Huw Warren, Don Rendell, Alex Dankworth and many more. At present she is working on many new projects in Spain and abroad.

Naíma Acuña is an endorser from top American brand DW Drums (Drum Workshop Inc).
Joanna Pascale (vocals)
Lyric is paramount for Philadelphia-based vocalist Joanna Pascale, who insists that she cannot perform a song unless she can connect personally with its lyrics. But once she's found that connection, there's no one who can better convey the emotion of those words more directly and intimately than Pascale. A singer of sophisticated taste, profound expressiveness, and raw emotion, Pascale is also a gifted educator who is a member of the vocal faculty at both Temple University and the University of Pennsylvania. She's been featured on recordings by Jeremy Pelt, Tim Warfield, Orrin Evans, Larry McKenna, the Temple University Jazz Band, and Garry Dial and Dick Oatts. Pascale made her recording debut with 2004's When Lights Are Low, followed by the 2008 CD Through My Eyes and a 2010 duo recording with pianist Anthony Wonsey. With the 2015 release of Wildflower, she revealed her most personal and diverse collection to date.
Hans Ermel (bass)
Jazz Workshop: responsible theory (basic level)
Hans Ermel was born in Eggiwil, Emmental in 1971, studied at the Jazzschule Luzern with Heiri Känzig but also took classes for classical double bass with Béla Szèdlak. He attended workshops in Switzerland and abroad with Niels-Henning Ørsted Pedersen, Miroslav Vitous, Marc Johnson, Ray Anderson und Dave Liebman. Hans Ermel is involved in various projects, including 'Die Vier Tenöre', Padre Padrone, 007 Only. He is also a member of different classical ensembles (Ensemble 7) and was part of musical- und theater productions (Der kleine Horrorladen, Evita, Miss Saigon, Les Misérables, West Side Story). Hans Ermel was born in Eggiwil, Emmental in 1971, studied at the Jazzschule Luzern with Heiri Känzig but also took classes for classical double bass with Béla Szèdlak. He attended workshops in Switzerland and abroad with Niels-Henning Ørsted Pedersen, Miroslav Vitous, Marc Johnson, Ray Anderson und Dave Liebman. Hans Ermel is involved in various projects, including 'Die Vier Tenöre', Padre Padrone, 007 Only. He is also a member of different classical ensembles (Ensemble 7) and was part of musical- und theater productions (Der kleine Horrorladen, Evita, Miss Saigon, Les Misérables, West Side Story).
Christoph Siegenthaler (piano)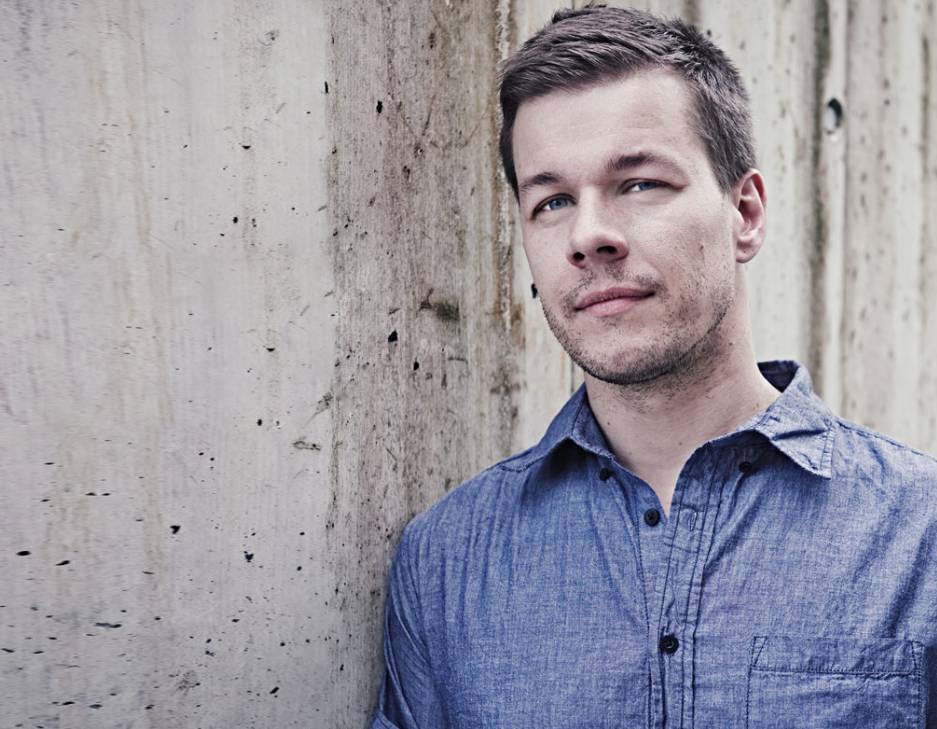 Responsible Junior Jazz Workshop Orchestra
Junior Jazz Workshop: band workshops
Christoph studied performance and educational science with William Evans (amongst others) at the Hoschschule der Künste Bern, Swiss Jazz School. He participated in master classes with musicians such as Michael Brecker, Bruce Barth, Art Lande, Paul McCandless, Darmon Meader, Ernie Watts, Janek Gwizdala, Bill Cobham und Enrico Pieranunzi. He is very comfortable with playing Jazz, however is also at home playing Pop, Rock and Soul music. He plays at numerous festival and club tours in Switzerland and abroad.
Rolf Häsler (sax)
Responsible Junior Jazz Workshop Orchestra
Rolf Häsler was born in 1962 in Interlaken and started playing the clarinet when he was 10 years old. 3 years later he added the saxophone. 1989 he graduated from the Swiss Jazz School Bern where he studied with Andy Scherrer. He participated in workshops with Dick Oatts, Jerry Bergonzi, Hannibal, Don Menza, Sal Nistico, Michael Brecker, Bob Mintzer, George Gruntz, Chris Hunter. He is teaching saxophone and clarinet at the music schools Oberland Ost and Region Thun. He is the responsible for the jazz workshop Interlaken and the jazz band of the gymnasium Interlaken. Leader of the Second Line Big Band, Big Band Musikschule Region Thun (1999-2011). He has plaid with musicians such as Joe Haider, Günther Kühlwein, Tim Hagans, Ron Mc Clure, Steve Fishwick, Steve Brown, Margie Evans, Gene Mighty Flea Connors, William Evans, Thomas Moeckel, Bruno Spoerri, Umberto Arlatti, Lars Lindvall, Mr. Blue and others.
Ivo Prato (sax)
Jazz Workshop: sax basic
Junior Jazz Workshop: playing theory / band workshops
Since 1988 Ivo Prato has been working as a musician and music teacher. After learning how to play the clarinet, he decided to study saxophone (ts) at the Swiss Jazz School (HKB) in Bern with Andy Scherrer as his teacher. He is a member of different bands and projects.
Niculin Christen (piano)
Responsible Junior Jazz Meeting

Born in 1981 in Thun. He graduated from the Hochschule für Musik Basel where he studied piano with Hans Feigenwinter and Malcom Braff. Exchange year at the Conservatorium van Amsterdam, classes with Karel Bouhle.
His sound spectrum goes from Jazz to Pop even to Klezmer. For the past few year he has started to play the Akkordon which makes him an in demand musician for many different projects. Current projects: Bait Jaffe Klezmerorchester, Matthias Siegrist, Little Pocket.