Langnau Jazz Nights Catering
Restaurant Kupfergabel
Open daily from 6.00pm (main concert venue Kupferschmiede)
The restaurant is also accessible to guests without a concert ticket.
Treat yourself to a delicious meal at this popular restaurant. It is located in an old factory building which creates a unique ambiance and is the perfect start to an unforgettable festival evening.
At the bar we serve a variety of finger food during the whole evening.
Reservations:
Before and during the festival: kupfergabel(at)jazz-nights.ch
During the festival: 079 818 79 73
Viehmarktplatz/Krompholz-Bühne: Wine, Dine & Music
Open daily 6pm - 10pm
Wine, dine and enjoy great music with your friends! A variety of food stalls offer a wide range of international dishes: salad buffet, BBQ, pasta dishes, fresh fried fish, pizza and crêpes...
Don't miss a delicious coffee from our coffee bar. We use the exclusive and high quality, home-roasted coffee beans from derkaffee, a traditional, Swiss coffee roastery.
Art at Langnau Jazz Nights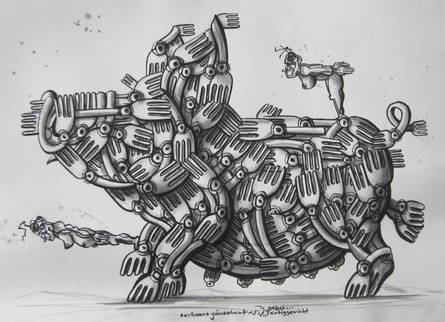 Artist 2016: schwarz gänsehaut: liebgruss