Program Saturday July 29th 2017
Saturday July 29th – 11:00pm
Kupferschmiede Langnau
The Stanley Clarke Band
Stanley Clarke b, Beka Gochiashvili p, Caleb Sean McCampbell keys, Mike Mitchell dr
Four-time Grammy Award Winner Stanley Clarke has attained "living legend" status during his over 40-year career as a bass virtuoso. He is the first bassist in history who doubles on acoustic and electric bass with equal ferocity and the first jazz-fusion bassist ever to headline tours, selling out shows worldwide. A veteran of over 40 albums, he won the 2011 Best Contemporary Jazz Album Grammy Award for The Stanley Clarke Band. Clarke co-founded the seminal fusion group Return to Forever with Chick Corea and Lenny White. In 2012 Return to Forever won a Grammy Award and Latin Grammy for Best Jazz Instrumental Album, Forever.
Clarke's newest CD, The Stanley Clarke Band: UP, was released on Mack Avenue Records September 30, 2014. Entirely produced by Clarke, he considers UP to be the most energetic, fun, rhythmic and upbeat album that he has ever done. Unlike his predominant acoustic bass work on the last few albums, UP is almost equal electric and acoustic bass. He revisits one of his classic recordings, the bass anthem "School Days." He was nominated for a 2015 Grammy for Best Instrumental Composition with "Last Train To Sanity" off the UP CD.
Clarke's creativity has been recognized and rewarded in every way imaginable: gold and platinum records, Grammy Awards, Emmy nominations, virtually every readers and critics poll in existence, and more. He was Rolling Stone's very first Jazzman of the Year and bassist winner of Playboy's Music Award for ten straight years. Clarke was honored with Bass Player Magazine's Lifetime Achievement Award and is a member of Guitar Player Magazine's "Gallery of Greats." In 2004 he was featured in Los Angeles Magazine as one of the Top 50 Most Influential People. He was honored with the key to the city of Philadelphia and put his hands in cement as a 1999 inductee into Hollywood's "Rock Walk" on Sunset Boulevard. In 2011 he was honored with the highly prestigious Miles Davis Award at the Montreal Jazz Festival for his entire body of work. Clarke has won Downbeat Magazine's Reader's and Critics Poll for Best Electric Bass Player for many years. In September 2016 he became a part of the permanent collection displayed at the Smithsonian's new National Museum of African American History and Culture (NMAAHC) in Washington DC.
Born in Philadelphia, Clarke has been a constant force of nature in American music since the early 1970s with the success of the jazz-fusion group Return To Forever. That accomplishment gave way to a number of extremely successful solo albums for Clarke. Along the way, he has collaborated with Quincy Jones, Stan Getz, Art Blakey, Paul McCartney, Jeff Beck, Keith Richards, Aretha Franklin, Stevie Wonder, Chaka Khan, The Police, Herbie Hancock and many more, and has shared the stage with Bob Marley and Miles Davis.
Saturday July 29th – 09:30pm
Kupferschmiede Langnau

John Escreet Group
John Escreet p, Greg Osby sax, Matt Brewer b, Eric Harland dr
Over the course of his career, John Escreet has earned a reputation as one of the most active and diverse pianist/composers working in jazz and improvised music. His prolific output is reflected over the course of 7 diverse and critically acclaimed albums.

Bursting on to the scene with his 2008 debut album Consequences, Escreet quickly earned a reputation as one of the most exciting new pianist/composers to have emerged in recent years, with Downbeat magazine proclaiming "John Escreet's recent debut Consequences signals the jumpstart of a new voice in jazz."

As well as being a leader of prolific output, Escreet is also a much sought-after sideman. He has toured extensively with Antonio Sanchez's Migration band, recording on his 2013 Cam Jazz release New Life. He has also contributed his pianistic skills to the working bands of David Binney, Amir ElSaffar, Tyshawn Sorey, and Jamie Baum among many others.

His music is often described as eclectic, and is perhaps best summed up by the New York City Jazz record:
"Escreet is a musical omnivore who embraces aspects of contemporary classical music, Frank Zappa, dance music, electronica and a wide swath of jazz, from bop to avant-garde. What comes out is uniquely personal - some of the most inventive and distinct jazz around today."

"Transatlantic Jazz Genius" – Time Out London

www.johnescreet.com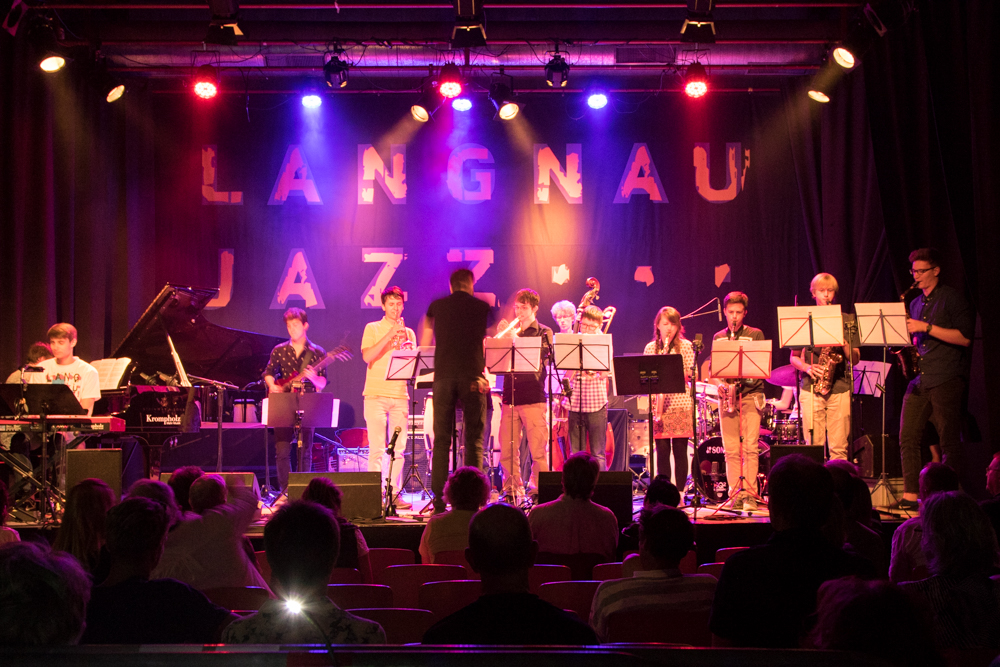 Saturday July 29th – 08:30pm
Kuferschmiede Langnau

The Junior Jazzworkshop Orchestra
During the Langnau Jazz Nights, young people of different ages get the chance to be part of a very unique project: The Junior Jazz Workshop Orchestra. During one week the participants rehearse for the final concert which takes place in front of a live audience. This project is realized by Christoph Siegenthaler and Rolf Häsler. With a lot of empathy and didactical skill, the two very gifted musicians manage to put together an impressive program. Surprising sounds from surprisingly talented young musicians!
Saturday July 30th – 05:00pm
Protestant Church Langnau
Joanna Pascale Project
Joanna Pascale voc, Marquis Hill tp, Liberty Ellman g, Miki Hayama p
Joanna Pascale
Lyric is paramount for Philadelphia-based vocalist Joanna Pascale, who insists that she cannot perform a song unless she can connect personally with its lyrics. But once she's found that connection, there's no one who can better convey the emotion of those words more directly and intimately than Pascale. A singer of sophisticated taste, profound expressiveness, and raw emotion, Pascale is also a gifted educator who is a member of the vocal faculty at both Temple University and the University of Pennsylvania. She's been featured on recordings by Jeremy Pelt, Tim Warfield, Orrin Evans, Larry McKenna, the Temple University Jazz Band, and Garry Dial and Dick Oatts. Pascale made her recording debut with 2004's When Lights Are Low, followed by the 2008 CD Through My Eyes and a 2010 duo recording with pianist Anthony Wonsey. With the 2015 release of Wildflower, she revealed her most personal and diverse collection to date.