Program Wednesday July 27th 2016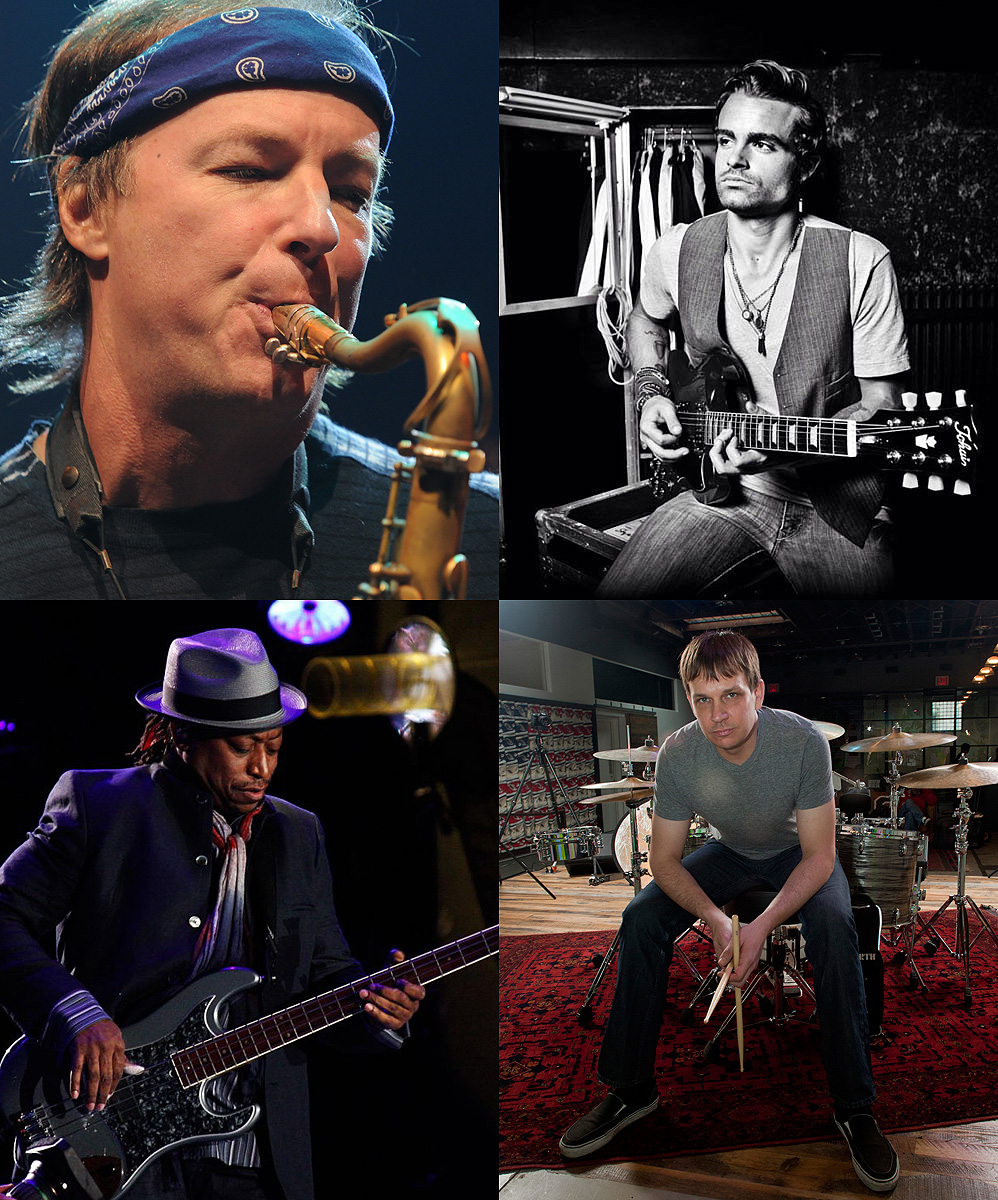 Wednesday July 27th – 10:15pm
Kuferschmiede Langnau
Bill Evans, Darryl Jones, Keith Carlock & Bryan Baker
Bill Evans sax, Darryl Jones eb, Keith Carlock dr, Bryan Baker g
Program change: due to an accident beginning of July, Mike Stern is unable to start his Tour with Bill Evans and will be replaced by the US-guitarist Bryan Baker. Mike Stern has sustained serious injuries, breaking both of his shoulders. Langnau Jazz Nights wish Mike a speedy and full recovery!
Bill Evans
Evans is a world-class saxophonist and producer who made his debut on the international music scene in the 1980s originally with Miles Davis, (at the age of 21 years old- and recorded 6 records with Davis) which led to playing with the likes of John McLaughlin, Herbie Hancock, Mick Jagger and Willie Nelson to name a few. With 24 solo albums, Grammy nods, and countless collaborations and tours, Evans has continued to explore a dazzling variety of adventurous musical settings as a pioneering bandleader, consistently winning fans in the worldwide arena.
Recent highlights include touring and or performing with his own band Bill Evans Soulgrass, The New Bill Evans Band, Warren Haynes, Robben Ford (soulgrass meets blues), Phil Lesh and friends, Stern/Evans Band, Medeski Martin Wood and countless sit- ins with The Allman Brothers band, Umphreys Mcgee, Moe, Blues Traveler, Galactic and many more.


Keith Carlock
www.keithcarlock.com

Keith Carlock is a professional drummer currently residing in New York City, NY and Nashville, TN.
He has recorded and/or toured with such musical luminaries as John Mayer, Sting, Steely Dan, James Taylor, Donald Fagen, Walter Becker, Diana Ross, Faith Hill, The Blues Brothers Band, Mike Stern, Leni Stern, David Johansen and the Harry Smiths, Richard Bona, Chris Botti, Wayne Krantz, Rudder, Harry Belafonte, Oz Noy, Larry Carlton, Clay Aiken, Rascal Flatts, Paula Abdul and Grover Washington, Jr, to name a few.

"Within one bar of the groove, I can tell it's Keith. There's nobody out there who sounds like him." - Oz Noy

"When Keith plays he's not mathematical. He's very spiritual. He's as advanced technically as anyone I've ever played with, but his technique always serves the music." - Wayne Krantz

Keith was recently voted number 1 Pop drummer, number 1 Fusion drummer, and number 1 Best All-Around drummer in Modern Drummer's 2009 Readers Poll.


Darryl Jones
www.darryljones.com

For more than 30 years Darryl Jones has played with some of the greatest legends of the jazz and rock world. For many he is best known for his gig with The Rolling Stones ranging from 1994 and onwards.
During High School Jones's band-mate Vince Wilburn Jr. (a nephew of Miles Davis), got him an audition with his legendary uncle – an opportunity Darryl didn't hesitate to seize. A week later Darryl found himself on stage with Miles Davis, guitarist Mike Stern, guitarist John Scofield, saxophonist Bill Evans, percussionist Mino Cinelu, and drummer Al Foster. After playing with Miles for two years, Jones moved on to join Sting's jazz band and toured with him on "The Dream of the Blue Turtles" tour for a year before returning to Miles.
Since then Jones has played with musical giants such as John Scofield, Herbie Hancock, Eric Clapton, Peter Gabriel and Madonna. Jones' most well-known gig, however, is the one with Rolling Stones, going on for more than 20 years. Darryl Jones, the man who went big from day one, has had an impressive career and keeps rocking it with the Rolling Stones. He has always followed one simple musical philosophy: "My approach to all music is: break it down, cut away the excess, and get back to the fundamentals.
Bryan Baker
www.bryanbakermusic.com

Bryan Baker has inspired and amazed audiences, reviewers and musicians alike since he began his professional career at the age of 12 with his utterly singular and technically ferocious guitar style. Often referred to as, "an incredible mix of the harmonic advancements of Ornette Coleman, the fire of Jimi Hendrix, the precision and power of Meshuggah and Pantera and with his love of risk and the avant garde similar to Sonic Youth," Bryan Baker's guitar style has carved out an immovable and impossible to replicate place for himself within the modern music scene. Having received a full tuition scholarship to attend the Los Angeles Music Academy at age 13 and a full tuition scholarship to the renowned Berklee College of Music at age 16, Bryan's destiny as a groundbreaking guitarist seems to have been written since day one, and is not a destiny he takes lightly. With six critically and publicly acclaimed solo albums under his belt, five world tours. a widely sold instructional book and numerous performances with internationally recognized artists, Bryan Baker is only getting started cementing his foothold within the world of music and the guitar.
Wednesday July 27th – 08:30pm
Kupferschmiede Langnau
Malcolm Braff Trio
Malcolm Braff p, Reggie Washington b, Stéphane Galland dr
Fifteen years ago everyone on the shores of Lake Geneva already knew who Malcolm Braff was. Legendary players were buzzing all around him: 24 hours of non-stop music in an old Corinthian temple in the middle of Vevey, a concert with a piano hanging from a hot-air balloon... And of course the hair, the aura of a Bengali hermit that could not go unnoticed. In short, Malcolm Braff was instantly recognizable.

What he wanted to do at the time was uncertain, he'd play standards, La Javanaise, that would slide into free mode, he'd carefully pick the white keys, the black keys from a mild piano but there was already an imperious style, a playful authority in his posture. One could recognize a a hint of Don Pullen's or Abdullah Ibrahim's Africa, Zulu gospel that disappeared into yet unknown tracks. And, most importantly, ever since he started Malcolm wanted to collaborate, be it with the most insignificant beginner or the greatest giant. .

When Malcolm was born in 1970, his father was a missionary in Rio de Janeiro. He lived on the road, Rio, Cape Verde, Dakar. In Senegal, however tight his entourage tried to lock the doors, the drums seeped in through every crack of the house.

Malcolm Braff has always created musical images opposing his childhood, rigorous sensuality, a niceness roughened up by his slicing, cutting edge fingers. With his violent love of jazz as a guiding light, Malcolm has a yearning for obstructed liberties, for evenings spent searching for notes within the notes, hammering on an old piano, followed by weeks writing a multi-faceted homage to Ligeti for a chamber orchestra.

He elegantly plunges into the volcanos of African music with his more-than-brother, djembe player Yaya Ouattara before resting in the classical Indian hammams of Calcutta with his more-than-brother Erik Truffaz. In the same phrase of improvised music, the sweet smell of calm always precedes the necessity of devastation.