Program Saturday July 30th 2016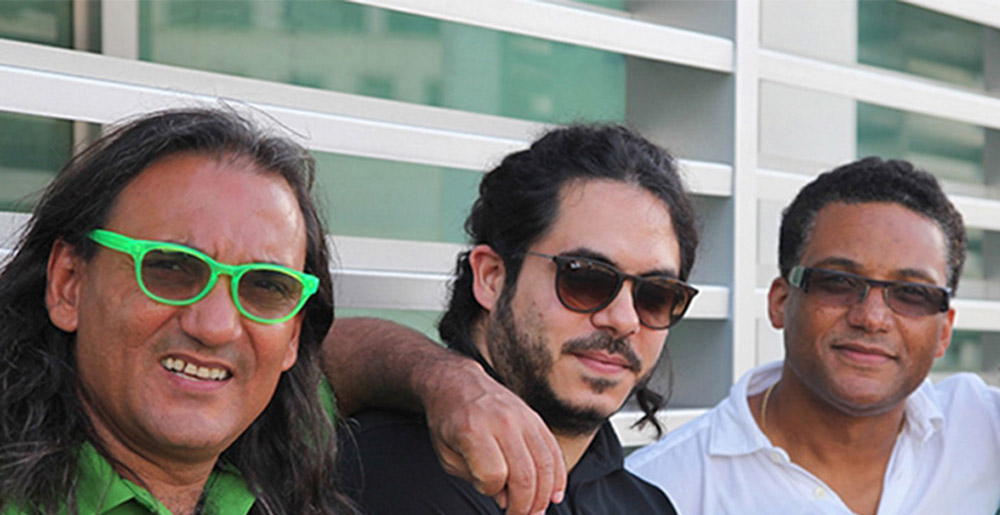 Saturday July 30th – 11:00pm
Kupferschmiede Langnau
VOLCAN
Gonzalo Rubalcaba p, Jose Armando Gola b, Horacio "El Negro" Hernandez dr
Volcan, an all-star group featuring the prodigious talents of Jose Armando Gola, Horacio "El Negro" Hernandez and Gonzalo Rubalcaba, is the product of years of friendship, respect and a diverse and rich musical heritage. With over 150 albums between them as leaders and side-men, these highly revered musicians have joined forces to our delight. Why Volcan? The volcano incorporates the four elements of nature, Earth, Air, Wind and Fire. Looming large and at times ominously over otherwise unremarkable landscapes, the volcano reminds us of the goals we aspire to, the ensuing journey and the value of the climb to the summit.
Gonzalo Rubalcaba
www.g-rubalcaba.com

May 27, 1963, Gonzalo Julio Gonzalez F onseca was born in post-revolutionary Havana into a musical family rich in the traditions of the country's artistic past. During his childhood, in addition to the standard fare of elementary schools, Gonzalo absorbed the Cuban musical heritage of his nascent environment through personal contacts within his family, notably his father, pianist Guillermo Rubalcaba and his two brothers (pianist and bassist) as well as from leading musicians who were frequent houseguests: Frank Emilio, Peruchin, Felipe Dulzaides and others. He also assimilated, through scarce and treasured recordings, the tunes and styles of 40's – 70's US jazz masters: Thelonius Monk, Bud Powell, Oscar Peterson among pianists; and instrumentalists Charlie Parker, Dizzy Gillespie and Art Blakey. Gonzalo loved drumming and early in his career studied both piano and drums. Despite the diversity of his background, Gonzalo's initial formal musical training was entirely classical. He began his training at Manuel Saumell Conservatory at age 9, where he finally chose the piano as his main instrument. He moved up to middle-school at Amadeo Roldan Conservatory and finally earned his degree in music composition from Havana's Institute of Fine Arts in 1983.
By that time he was already playing in clubs and music halls in Havana. He toured France and Africa with Orquesta Aragon in 1980 and introduced his own Grupo Projecto to the North Sea and Berlin Festivals in 1985. Egrem Studios of Havana was the first to record his music during the early and mid '80's and these discs, INICIO, an album of piano solos and CONCIERTO NEGRO, are still available. Beginning in 1986 Gonzalo began recording for Messidor of Frankfurt, Germany and put out
three highly acclaimed albums for that label with his Cuban Quartet entitled MI GRAN PASION, LIVE IN HAVANA, and GIRALDILLA. On the strength of those works Gonzalo began attracting international attention and in 1986 a chance meeting in Havana with bassist Charlie Haden brought him to the attention of Blue Note Records' president, Bruce Lundvall, and thus began an association first with Toshiba/EMI of Japan and later with Blue Note in the US which resulted in 14 discs being released. (See the Discography page for a complete listing.) In July 1990, he appeared as a surprise guest in an historic performance, available on the CD Discovery with Charlie Haden and Paul Motian (ex Bill Evans trio members) at the Montreux Jazz Festival, Switzerland.


Jose Armando Gola
www.5passion.com/gola

Havana native Jose Armando Gola has played bass since the age of thirteen. He attended the Amadeo Roldan Conservatory in Cuba. He plays both upright and electric bass in various settings and has toured internationally, having played at most of the important jazz festivals of the world. Only in his mid-20s, he has worked with Gonzalo Rubalcaba for the past seven years.
Gola has appeared on two GRAMMY® Award Winning albums: RUMBA PALACE (Arturo Sandoval) and El Tren De Los Momentos (Alejandro Sanz). Gola has also appeared on three GRAMMY® nominated albums: PASEO (Gonzalo Rubalcaba), CODES (Ignacio Berroa) and TE ACUERDAS (Francisco Cespedes).
He has recorded with artist's like Alejandro Sanz, Jenifer Lopez, Thalia, Francisco Cespedes, Luis Enrique and many others. His first album as leader is entitled GOL A LIVE THINGS, which features great musicians the likes of Tony Perez, Felipe Lamoglia, Mike Rodriguez, Rafael Solano, Ludwig Afonso, Philbert Armenteros and William Paredes. Gonzalo Rubalcaba and Ignacio Berroa appear as special guests.
Currently, Jose Armando Gola is touring with Eldar Djangirov in support of Djangirov's latest album VIRTUE.


Horacio "El Negro" Hernández
www.elnegro.com
Horacio Hernandez "El Negro" is a gifted musician who represents a new generation of great players following in the footsteps of countrymen Arturo Sandoval, Paquito D'Rivera, Ignacio Berroa and others. Hernandez plays on the cutting edge of today's music with technical prowess and versatility. His drumming also reflects a proud musical heritage rooted in folklore tradition.
El Negro first gained international recognition as the drummer for the extraordinary pianist Gonzalo Rubalcaba and his group Proyecto. Since leaving Cuba in 1990, Hernandez has made a name for himself in the U.S. with his live performances with many different pop, rock, jazz and Latin jazz acts and his appearances on many different albums, some of which have received Grammy awards, like Roy Hargrove's HAVANA (1997), Carlos Santana's SUPENATURAL (1999), Alejandro Sanz' NO ES LO MISMO (2003) and Eddie Palmieri's LISTEN HERE (2005). He owns a Grammy award for the 2001 Latin Jazz album LIVE AT THE BLUE NOTE, with Michel Camilo(piano) and Charles Flores (bass). Since 2004 he records and tours with his own band, Italuba. In 2011 he played at the Modern Drummer Festival with his new band The New World Order, the concert was also released on the Modern Drummer Festival 2011 DVD.
Saturday July 30th – 09:30pm
Kupferschmiede Langnau

Weird Beard
Florian Egli sax, Dave Gisler g, Martina Berther eb, Rico Baumann dr
"Weird Beard is floating through very gentle melodic passages, passing into more harsh mountain streams, always opening up wide horizons by its endearing compositions with a Motianian touch."
All about Jazz (Henning Bolte)

www.weirdbeard.ch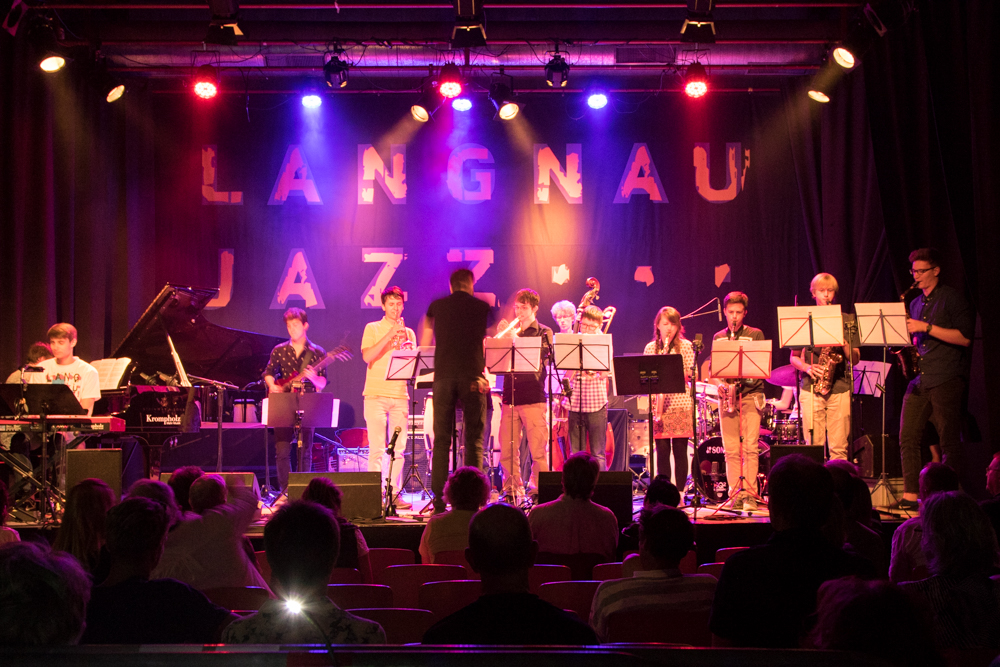 Saturday July 30th – 08:30pm
Kuferschmiede Langnau

The Junior Jazzworkshop Orchestra
During the Langnau Jazz Nights, young people of different ages get the chance to be part of a very unique project: The Junior Jazz Workshop Orchestra. During one week the participants rehearse for the final concert which takes place in front of a live audience. This project is realized by Christoph Siegenthaler and Rolf Häsler. With a lot of empathy and didactical skill, the two very gifted musicians manage to put together an impressive program. Surprising sounds from surprisingly talented young musicians!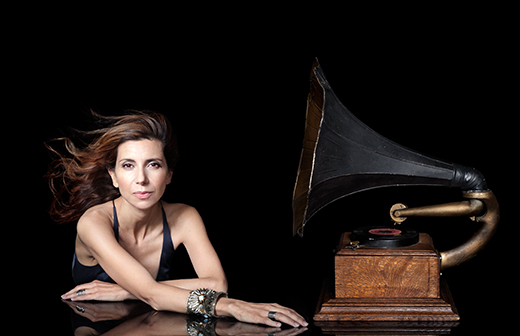 Saturday July 30th – 05:00pm
Kupferschmiede Langnau
Magos Herrera / David Gilmore
Magos Herrera voc, David Gilmore g
Magos Herrera
www.magosherrera.com

..."Herrera is without a doubt the best jazz singer out of Mexico, and with México Azul she is establishing herself among the best singers in jazz". Jazztimes / Wilbert Sotre, 2011

Born in Mexico City and currently based in New York City, Magos Herrera, a dazzling accomplished singer songwriter, is considered one of the most beautiful voices and most active vocalists in the contemporary Latin American jazz scene. She is known for her beguiling rhythmic scatting and deep captivating singing.
US latin magazine Siempre Mujer featured Herrera alongside Michelle Obama as one of the top 10 women in 2011 for her outstanding work as a musical ambassador for Mexican contemporary music. She was a recipient of the Mexico National Grant Program for Performing Artist 2010-2013 given by the National Fund for Culture and the Arts (FONCA) representant mexican jazz abroad, and is a UN campaign a spokesperson for the UNITE campaign to stop violence against women.
In 2008 Herrera moves to New York, to develop her artistic ambitions. She promptly becomes part of the local scene after performing a highly successful concert at the New York Winter Jazz Festival. Since then, Magos has recorded and perform as part of innumerable projects including the album Stones World: The Rolling Stones Project II (2008) for saxophonist Tim Ries, The Music of Chick Corea with pianist Elio Villafranca and with contemporary composer Paola Prestini for VIA project, among others. In 2013 Magos is honored by Canal 22 to be part of the series Mexicanos Exitosos and in 2015 she received Berklee's Master of Latin Music Award in recognition of her contribution to the development and exposure of Latin American and her original music in a contemporary context around the world.
David Gilmore
www.davidgilmore.net

David Gilmore has recorded and performed with many of today's most influential modern artists. He has worked with Wayne Shorter (appearing on Mr. Shorter's Grammy Award winning album, High Life (Verve)), Dave Douglas, Muhal Richard Abrams, Sam Rivers, Steve Coleman, Cassandra Wilson, Don Byron, Uri Caine, Randy Brecker, David Sanborn, Ron Blake, Carolyn Leonhart and Christian McBride, among many others.
In addition to his significance presence on the international touring scene, Gilmore has also appeared on over 50 recordings, including two of his own as leader. His first CD, Ritualism (2001) received international critical praise and was nominated for the 2001 Debut CD of the Year by the Jazz Journalists Association.
Gilmore's playing has been compared to guitarists as diverse as George Benson, Wes Montgomery, Jimi Hendrix and Leo Nocentelli. He is committed to an improvisational approach that reflects a global awareness. One result of this global ethic, the work "African Continuum" – enabled by a CMA New Works Composer Grant– was premiered to the public in Spring 2003.
In addition to recording and touring, Gilmore teaches Guitar Studies at the prestigious Berklee College of Music where he is an Associate Professor. He also conducts master classes around the world, giving him an opportunity to share his talents, concepts and experiences with new generations of young musicians.
More recently David was the recipient of a 2008 Chamber Music America, New Jazz Works Composer's grant.